The Art & Science of Fragrance & Flavors
We aim to make perfumery more accessible to all.
A home for emerging makers, fragrance & flavor professionals, olfactory artists, suppliers, and enthusiasts.
#LearnTogether
Designed to be sequential, progressive, and user-friendly, Indie Perfumers Guild offers a suite of foundational/all-level courses taught by our Founding partners:
Level I is for everyone: Perfume Blending, Perfume Primer, and Odor Vocabulary will be followed by six Level II modules (materials & lab techniques), and more advanced courses in Level III (Accord and Eau de Cologne Creation Classes). Members can select sessions individually depending on availability, timing, and skill set requirements.
Level I Primer and Odor Vocabulary courses are prerequisites for Level II, III and Master Level sessions. Proof of equivalent coursework elsewhere (like the IOA, Cinquième Sens, or ISIPCA) are acceptable upon request.
The IPG will evolve with diverse and repeat workshops, guest lecturers, showcases, master class/panel discussions, career-focused intensives, open lab sessions, and experimental collaborations over time.
TEAM PROFILES
Each IPG session is hosted by a distinguished industry professional:
Christopher Diienno launched his journey into fragrance with his passion for the art and an emphasis on the science of perfumery. His journey in the industry began in 1983 with RBD, and he has since contributed to some of the most successful fine fragrances today. He received a lifetime achievement award from The American Society of Perfumers and now runs his perfume consultancy company, MOCA Fragrances.
Andrea Bifulco is the founder of Nose University, which teaches children about their sense of smell. Nose University offers olfactive programs and workshops that explore the connections between scent and science, art, writing and language. Before starting Nose University, Andrea worked in corporate fragrance development at the Estée Lauder Companies, scented print development at Orlandi, Inc. and fragrance R&D in the Estée Lauder Laboratories.
Born and raised up in the Middle East, It is no surprise that Noura would find herself diving into the world of perfume.
Noura's love for perfume began in 2017 and expanded rapidly via ISIPCA, CINQUIEME SENS, and LA VIA DEL PROFUMO in Italy and France.
Mindy Yang is the Founder and CEO of Perfumarie. She is a growth hacker and agent of change with decades of experience in 360º sensory design. She specializes in fragrance creation, branding, marketing, and business development.
Born into this industry, Darryl Do is a New York-based perfumer/flavorist (chemist) and regulatory expert. He has created fragrances for global brands including Caswell Massey, DS & Durga, Takashimaya, Hilton Hotels, Standard Hotel, Intercontinental Hotel Barclay NY, and Perfumarie.
Darryl also teaches perfumery at FIT SUNY and Kent State University. He speaks globally on cosmetics compliance regulations and CBD/hemp beauty.
He is a member of American Society of Perfumers, WFFC Associate member, Past Board Member of Cosmetic Industry Buyers & Suppliers, Fashion Group International, NY Society of Cosmetic Chemists.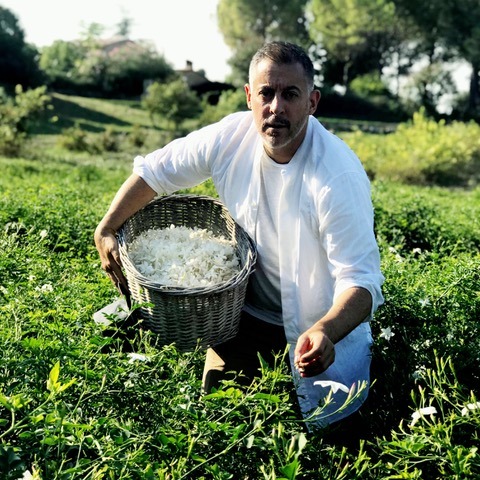 Gus Romero is a fashion stylist and perfumer in NYC. A native of Buenos Aires, he pursued chemistry early in his career and continued to attend courses at Pratt Institute, GIP in Grasse, ISIPCA in Versailles and the IAO in Los Angeles. Gus believes NYC deserves a "well structured" learning program for aspiring perfumers and is working with us to achieve that.
Agustine Zegers is a Chilean artist and writer who recently graduated with an MFA in Sculpture + Extended Media from VCU where she worked with olfactory art as a primary medium.
Agustine looks after the studio and work closely with SoHo Beacon members to foster collaborations and develop new sensory programs and events.
"Tell me and I forget. Teach me and I remember. Involve me and I learn."
— Benjamin Franklin
Make a donation.
100% of every donation goes into programming. We deeply appreciate your support!
Visit Us
We are located at Perfumarie's SoHo Beacon, a private club at 155 Lafayette Street in New York City.
Hours
10am–6pm
BY APPOINTMENT